Honor Magic Vs hands-on review
Honor is really proud of the displays on the Magic Vs and makes some bold claims about their brightnesses, among other things. We already talked about things like form factor, aspect and creases, but let's mention some of the numbers again.
The internal OLED display has a resolution 1,984×2,272px in a 10.3:9 aspect ratio. Stretched across a 7.9-inch diagonal, those pixels amount to 382ppi.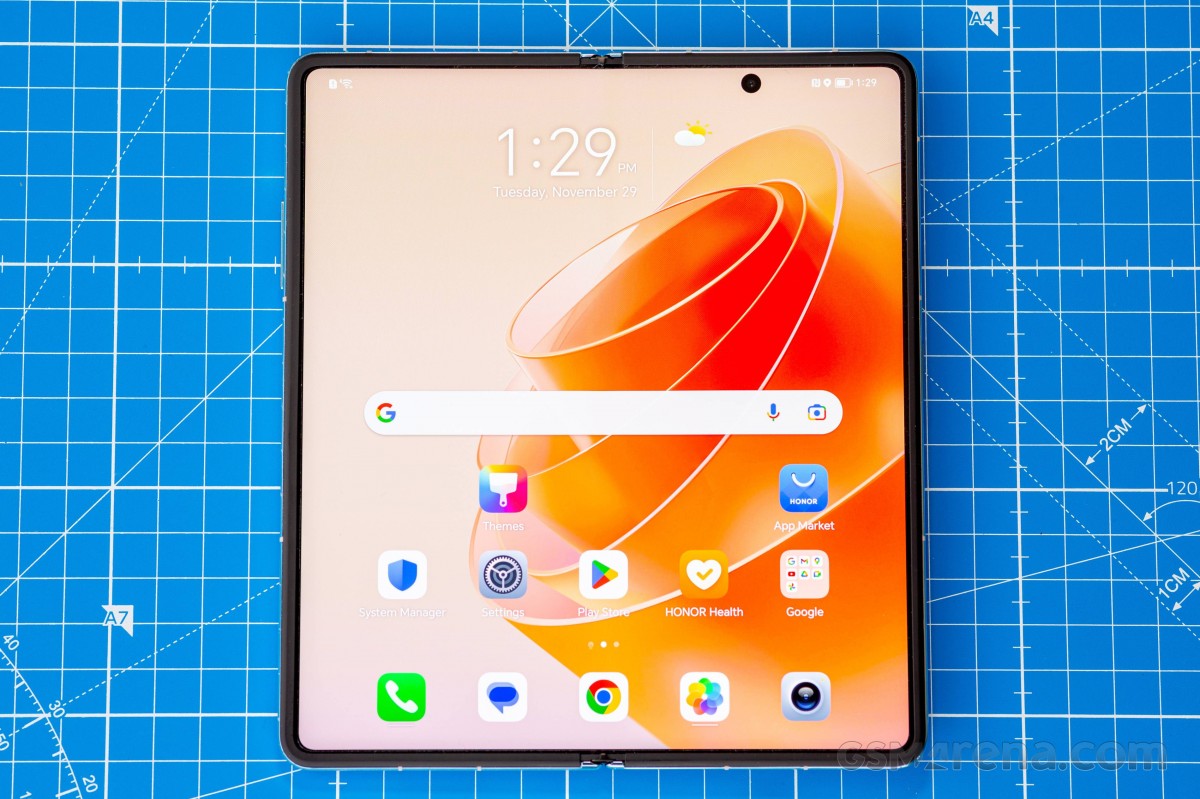 This display has a 90Hz refresh rate, which is a notch below the 120Hz capability of the Galaxy Z Fold4 and other, more regional offerings like the Mix Fold 2 or the Oppo Find N. Even the somewhat related and somewhat global outward-folding Mate Xs 2 boasts a 120Hz refresh rate, while the more conventional (but nearly two-years-old) Mate X2 is also at 90Hz.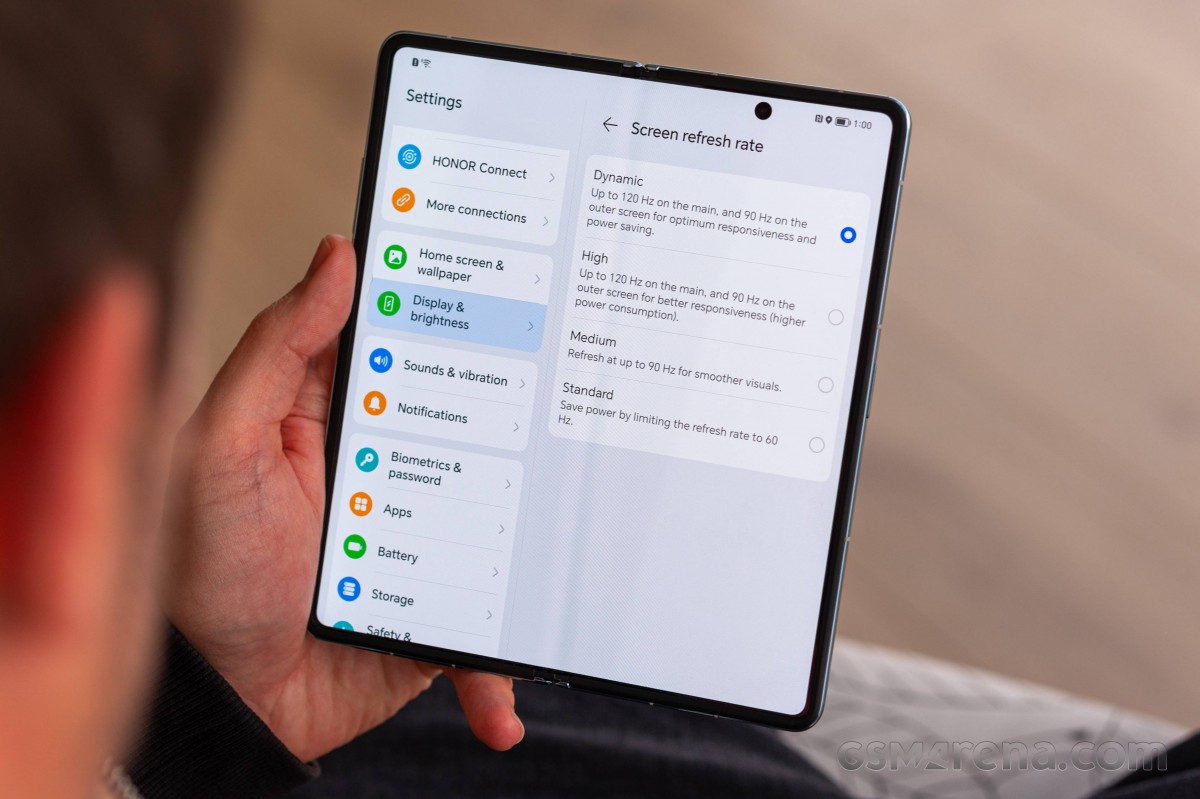 The Magic Vs' outer display, on the other hand, does refresh up to 120 times a second – same as the Galaxy and the Mix. It's got a sensible aspect ratio too at 21:9, and with its 6.45-inch diagonal and 1,080×2,560px resolution has a slightly higher pixel density of 431ppi.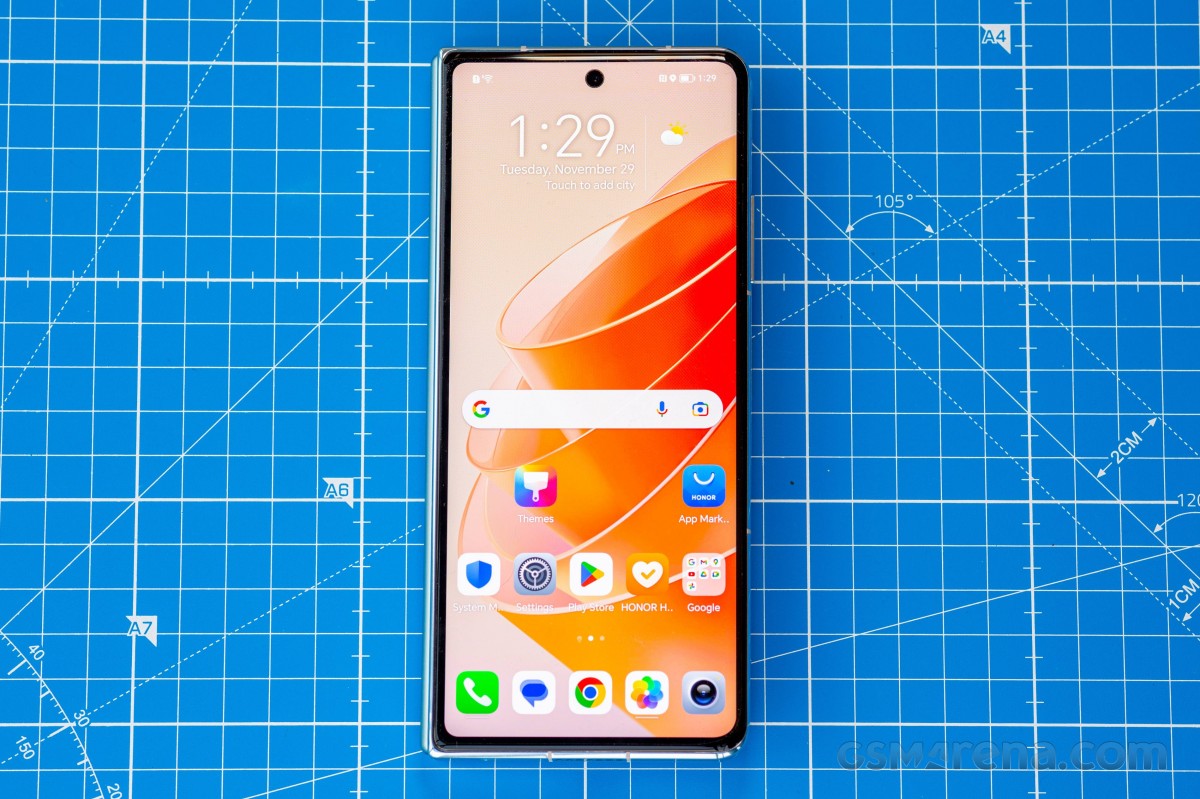 Both displays feature 1920Hz pulse-width modulation for brightness control, so should look flicker-free to even the most flicker-sensitive eyes. HDR10+ support is also on both spec sheets.
On the folding display, we measured a maximum brightness of 587nits when operating the slider manually, while flipping on the adaptive brightness toggle returned 878nits. That's higher than the 800nits that Honor promises, but we've standardized our measurements for a 75% display area, and they could be rating it at 100%, and the lit up area typically makes a difference in max brightness on OLEDs.
The Galaxy Z Fold4 is capable of pushing some more nits, both automatically and at your request, while the Mix Fold 2 only beats the Honor in bright ambient conditions. The Honor is substantially brighter than either of the last two large-size Huawei foldables we've tested. In any case, you won't be strapped for nits on the Magic Vs when in tablet mode.
Display test
100% brightness
Black, cd/m 2
White, cd/m 2
0
587
∞
0
878
∞
0
505
∞
0
809
∞
0
1000
∞
0
522
∞
0
1054
∞
0
490
∞
0
582
∞
0
506
∞
0
469
∞
0
542
∞
It gets even better in smartphone mode – on the cover display. We measured a whopping 1279nits with the adaptive brightness enabled and the phone under bright light. That's roughly 250nits more than the Z Fold4's outer display and actually a handful of nits brighter than the Galaxy S22 Ultra under the same conditions.
Display test
100% brightness
Black, cd/m 2
White, cd/m 2
0
556
∞
0
1279
∞
0
486
∞
0
802
∞
0
1034
∞
0
501
∞
0
940
∞
0
505
∞
0
785
∞
0
514
∞
0
725
∞
0
472
∞
0
601
∞
0
494
∞
0
829
∞
0
1266
∞
Wrap-up
We're always thrilled to receive a new foldable smartphone, so the arrival of the Honor Magic Vs was an event. It's even better when it's one that carries a promise for global availability, even though there's no specific timeframe for when we might see it on shelves. Realistically, the only current large foldable sold outside of China is the Galaxy Z Fold4, with the exception of the Huawei Mate Xs 2, which however is handicapped by the lack of Google Services support.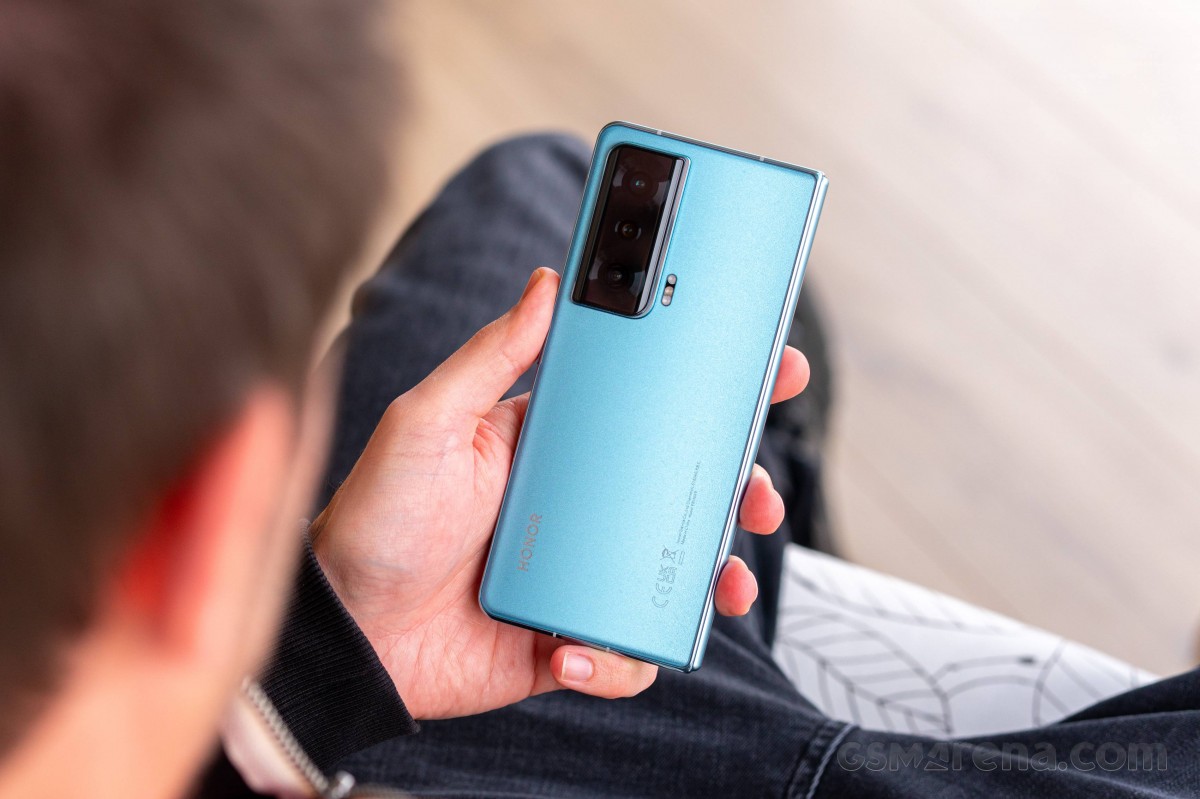 Sadly, the Magic Vs that we had with us wasn't quite ready. That is to say, it was running a global variant of the Honor in-house OS with full Google Play support; it's just that it wasn't in a final, review-ready state. That was unfortunate, because we would have liked to explore it in more detail and run the barrage of tests we normally do, but that wouldn't have been fair on the Magic. We'll then reserve final judgment for when we get to experience a commercial-grade sample (there might be an 'if' https://jiji.ng/ in there too, we'll see). As it is right now, the Magic Vs is looking promising, that's for sure.
Honor Magic Vs hands-on review Post comment
If you don't follow the above rules, your post will be probably deleted.
While the administrators and moderators of this site will attempt to remove or edit any generally objectionable material as quickly as possible, it is impossible to review every posting. Therefore you acknowledge that all posts made to these forums express the views and opinions of the author and not the administrators, moderators or webmaster (except for posts by these people) and hence will not be held liable.
You agree not to post any abusive, obscene, vulgar, slanderous, hateful, threatening, sexually-oriented or any other material that may violate any applicable laws. Doing so may lead to you being immediately and permanently banned (and your service provider being informed). You agree that the webmaster, administrator and moderators of this site have the right to remove, edit, move or close any topic at any time should they see fit.